Duke of Normandy – 26m Damen Shoalbuster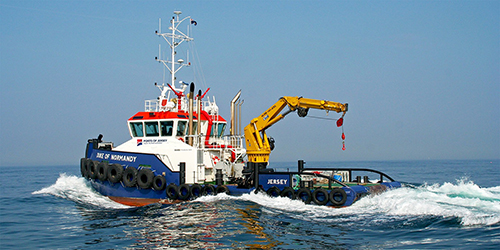 The Duke of Normandy is a 26m Damen Shoalbuster that provides a wide range of marine services from towage, mooring maintenance and anchor handling to bed levelling, survey and engineering support in some of the most challenging environmental conditions in Northern Europe.

Duke of Normandy – technical details
Bed levelling and dredge support
The Duke of Normandy has an 8m wide bed levelling plough which is rigged and levelled with the use of cable counters. This can be used either as a standalone operation or in support of maintenance dredge operations, and can be validated by in-house MBES surveys.
Dive support
The Duke of Normandy has developed its support as an ideal platform for commercial dive teams, with space on deck for a dive control centre in a specialised container which has power, light and heating. The vessel also has its own dive ladder providing safe access/agress to/from the water. A four point mooring system can also be deployed to create a stable position without the requirement for vessel propulsion during dive operations.
Engineering and infrastructure support
The deck crane has a reach of 18m, and along with the vessel's shallow draft and precise manoeuvrability, provides the ideal platform for engineering and infrastructure project support, either within the port environment, or at sea.
Mooring servicing and anchor handling
From servicing small moorings for leisure vessels, to deploying large four point moorings spreads for tidal turbine deployment, the Duke of Normandy and her crew have unique experience working in confined waters and large tidal ranges.
Salvage
In additional to towage and dive support, we have the ability to salvage sunken vessels utilising the 12t deck crane, and high volume pumps.
Survey – environmental and bathymetry
A large crane capability and A–frame rig allows for the safe deployment of a range of sub-sea survey instruments, including cameras, ROVs and ADCPs. An over-the-side pole mount can also be mobilised to deploy a range of sensors, including MBES, beacon sensors for towed fish etc. A full dimensional control survey provides referenced points for efficient third party sensor installation.
Towage services
Our 26m Damen Shoalbuster has a shallow draft and 28t bp which can provide coastal barge towage and transportation in support of dredging, engineering and construction projects. It can also assist with salvage/rescue of vessels at sea and assistance with berthing of ships in high winds within the confines of a port.
Call or email for further enquiries:
T: +44 (0) 1534 447765
M: +44 (0) 7700 710449
Email: marineservices@ports.je