Duchess – 27m Damen Shoalbuster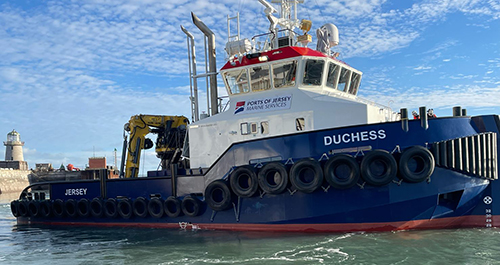 The Duchess is a 27m Damen Shoalbuster that provides a wide range of marine services from towage, mooring maintenance and anchor handling to surveying and engineering support in some of the most challenging environmental conditions in Northern Europe.
The twin Caterpillar engines delivering 3.500 BHP which results in approx 41 tons (design) bollard pull. In combination with minimal draft, the 200 BHP bow thruster and the twin fixed propellers in nozzles, gives the vessel maximum manoeuvrability.
The strong HEILA marine deck crane with a maximum lift capacity of 5,65 tons (m) at 19,0 meters, the double drum winch of 100 tons (pull), tugger winch of 12 tons, hydraulic coupling winches for pushing mode and a maximum clear deck area, makes the vessel more than multifunctional. All deck equipment is running on biodegradable lubricant oil.

Duchess – technical details
Call or email for further enquiries:
T: +44 (0) 1534 447765
M: +44 (0) 7700 710449
Email: marineservices@ports.je