Port information for cruise operators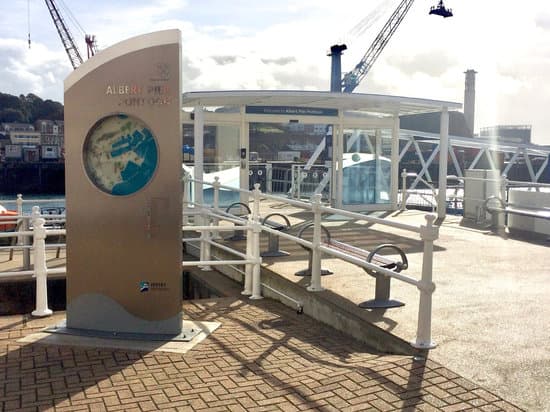 Jersey is located in the northern part of the Bay of St Malo, some forty miles south of the main English Channel shipping lanes and only twelve miles off the Contentin Peninsula. St Helier Harbour is situated on the Island's south coast, at the eastern end of St Aubin's Bay.
The Port of Jersey is a modern and efficient port with a proven ability to cater for the needs of cruise ships.
Albert Pier
A major refurbishment of the Albert Pier Pontoon in St Helier Harbour was completed in winter 2021 and now provides a modern berthing facility with a pedestrian access bridge from Albert Pier, providing an ideal pontoon for cruise ship passenger tenders.
Albert Pier is an ideal facility for smaller compact cruise vessels. Conveniently located in the shelter of St Helier Harbour, the pier allows modern manoeuvrable vessels up to 100m in length to berth alongside. There is a transit terminal building with direct access ashore from a suitably placed ship shore gangway. The terminal has toilets, as well as check-in security and passenger seating areas. Parking for coaches, minibuses and taxis is available immediately in front of the terminal.
The heart of St Helier's shopping centre is a pleasant 10 minute stroll from Albert Pier.
Anchorage
Vessels visiting Jersey may anchor in St Aubin's Bay, in the approaches to St Helier Harbour off the Demie de Pas Lighthouse on the South East coast, or off St Catherine's Breakwater in the north east coast of the Island. St Aubin's Bay anchorage is limited to vessels of maximum length 185m, subject to draught. Tenders will land passengers arriving in St Helier on the Albert Pier Pontoon. Larger vessels with a draught in excess of 5.5m can anchor off the Demie de Pas Lighthouse.
Additional information
| | |
| --- | --- |
| Time zone | UTC |
| Normal opening hours | 0600 to 2300 |
| VTS channel | channel 14 |
| Coastguard channel | channel 16 and 82 |
| Maximum ship dimensions | Anchorage unlimited alongside 130 m |
| Air draught restrictions | None |
| Pilot | Yes |
| Tugboat | Yes |
| Security facilities | Yes |
| Gangway | Yes |
| Tidal restrictions | Yes |
| Waste handling | Yes |
Contact information
For more information about visiting the Port of Jersey as part of your cruise itinerary, contact in the first instance, Maria Le Tiec, Cruise Jersey's Passenger Services Manager, by emailing maria.letiec@ports.je or by telephoning +44 (0)1534 447743.
For International Ship and Port Facility Security Code queries, please contact Jersey Coastguard on +44 (0) 1534 447704.