Environment and sustainability
Rewilding and conserving our oceans is as important as rewilding and conserving our land.  The oceans cover 70% of the world and they contain a wealth of life which is vital to maintaining a strong, stable natural world for now and future generations.
Ports of Jersey is establishing a strong sustainability culture throughout the organisation and the Maritime team is working closely with business partners, Government of Jersey and NGO, to continue initiatives already in place and introduce new ways of working, integrating it into our everyday operations.
There are four pillars that support Ports of Jersey's environmental and sustainable ambitions.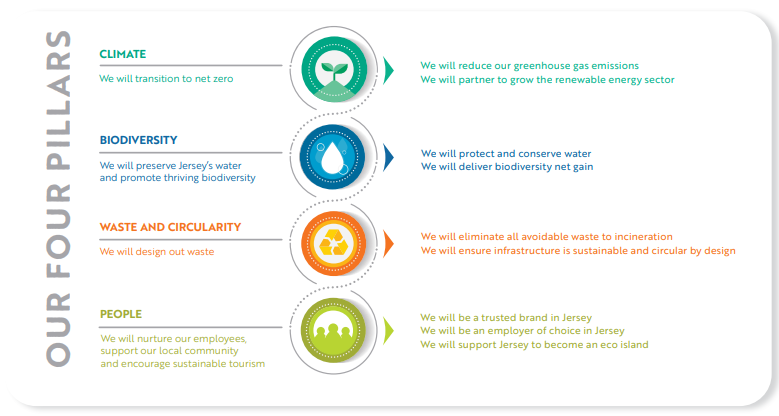 Ocean facts
EcoPorts
We have embarked on becoming an accredited EcoPort.  ​​​​​​​
EcoPorts is the main environmental initiative of the European port sector. It was initiated by a number of proactive ports in 1997 and has been fully integrated into the European Sea Ports Organisation (ESPO) since 2011. The overarching principle of EcoPorts is to raise awareness on environmental protection through cooperation and sharing of knowledge between ports and improve environmental management.
We have completed the Self-Diagnosis Method (SDM), which was submitted on 5 April to EcoPorts. The SDM is a detailed checklist to assess the environmental management programme of the port relative to the sector and international standards.
We will now be benchmarked against other ports and have commissioned a gap analysis to help us progress to the accredited Port Environmental review system (PERS) stage.
Ports of Jersey has launched Living Seawalls, a new project promoting the growth of marine life within our local marinas.

An outline of the steps being taken to monitor water and air quality.

The Bay of St Catherine's supports a wealth of marine life; one of significant importance is the seagrass beds that have established in the area and reported to be the largest site around Jersey's coastline.