Fisherman's Pontoon project
Fisherman's Pontoon Replacement Project in conjunction with

 ​
Project Updates
20 July 2018
The Fisherman's Pontoon Project is nearing completion, the commissioning and official opening of the Pontoons has been set for Wednesday 25 July 2018.
Thanks to the close collaboration that Jersey Harbours has had with the Jersey Fisherman's Association, this project has been delivered successfully and on schedule.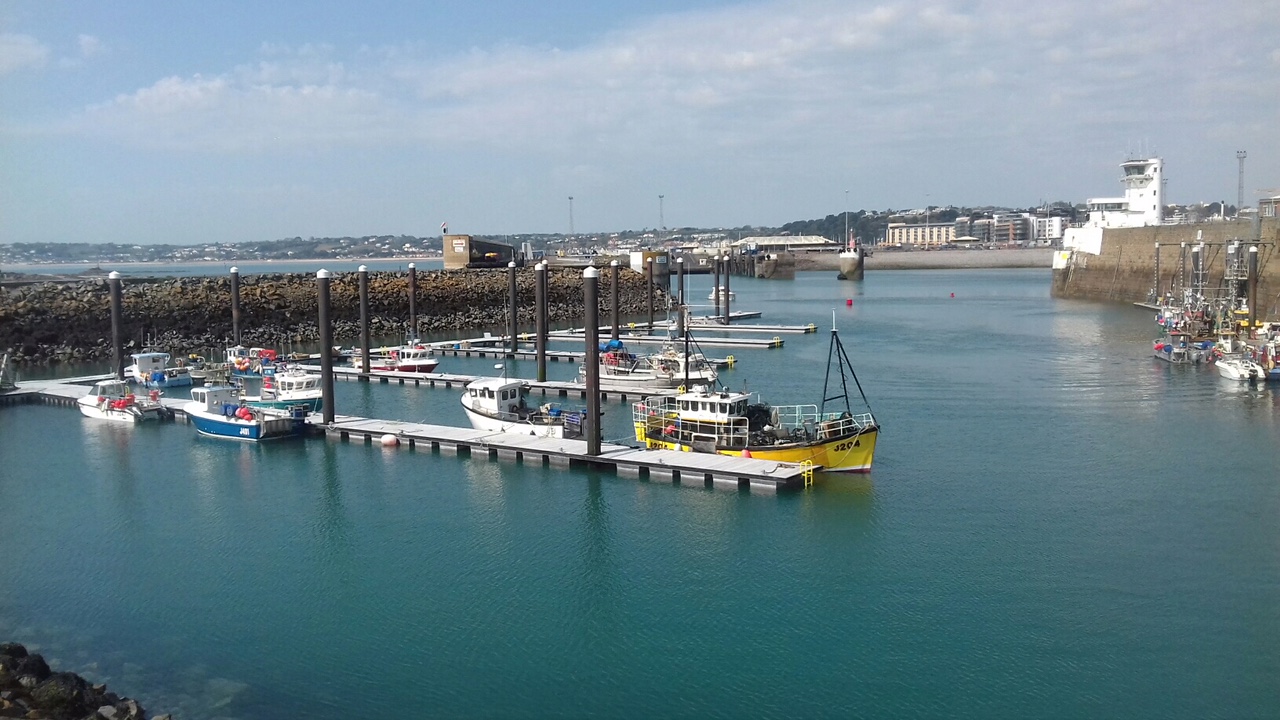 09 April 2018
Geomarine's barge 'Geo Lillie' was towed around from the St Helier Marina to La Collette Marina on Monday 09 April 2018, by Ports of Jersey's Marine Services team. The barge is going to assist the contractors with installation of the bridge link.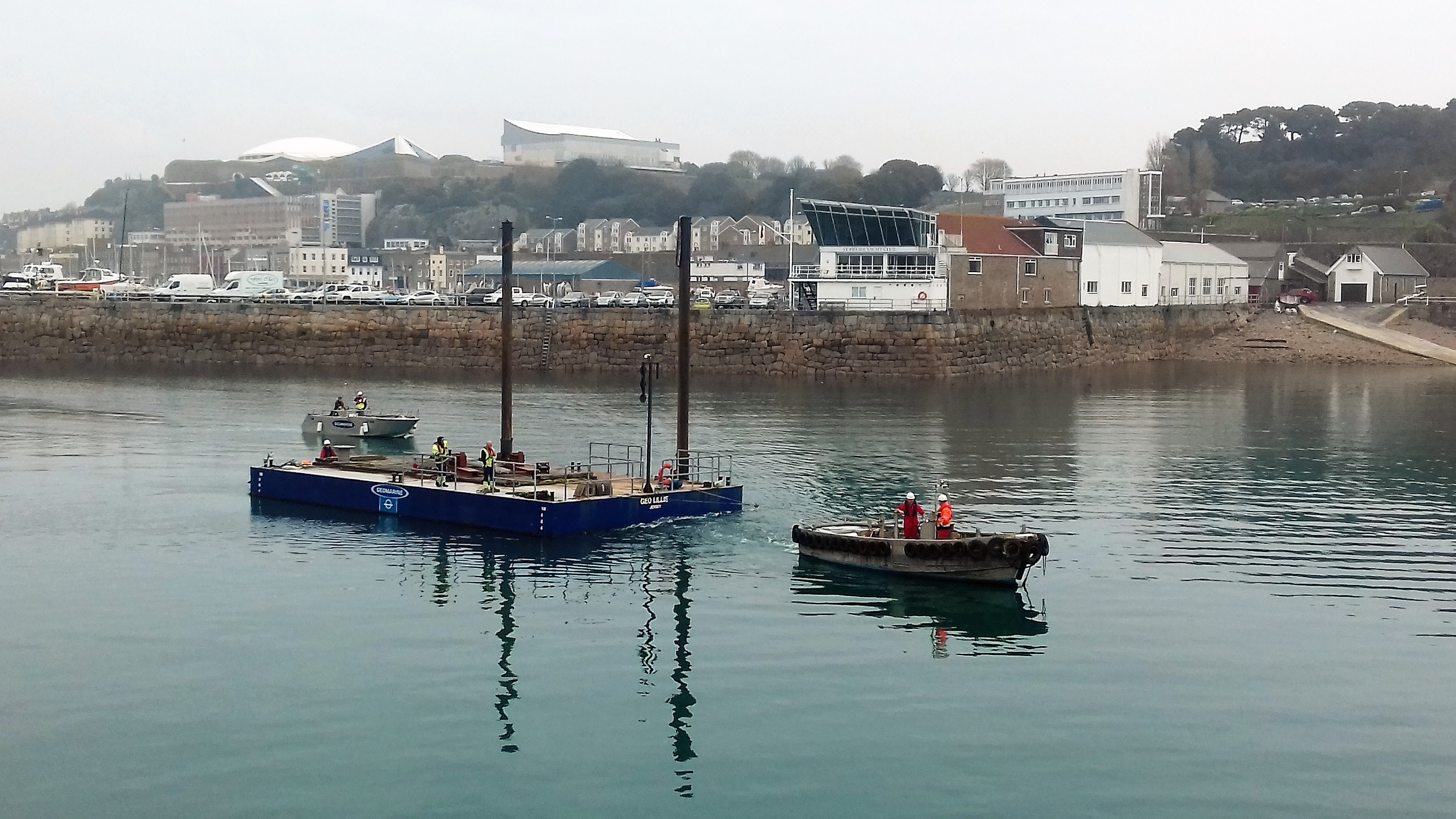 Overview
A major works programme to enhance the Commercial Fisherman's Pontoons in St Helier Harbour is due to commence on Monday 26 February 2018.
The 2-month project will involve the replacement of existing pontoons and equipment across two key operational areas used by the Island's fishing fleet; namely La Collette Berthing Pontoons in La Collette Yacht Basin and the London Berth Landing Pontoon on the eastern side of the Victoria Pier.
The existing pontoon equipment is now over 25 years old and regular engineering inspections have revealed that it is beyond the end of its serviceable life. The existing equipment will be replaced to sustain the operational requirements of the Island's Commercial Fishing Industry, as the current pontoons no longer meet the demands of the St Helier Fishing fleet.
Scope
The works project will provide the opportunity to introduce some notable enhancements to the existing layouts. While no additional piling will be undertaken, the revised design will see an increase in the overall number of berths available, rising from circa 45 berths to approximately 60 berths. Other notable enhancements will include:
Increased pontoon widths and loading capabilities;
Increased berthing provisions, which, for example will see an additional 150m extension across both sites;
Improved pontoon services, including access to power and water;
Internally set piles within the pontoon structures will provide unobstructed berthing and improved efficiency and flexibility of berthing arrangements.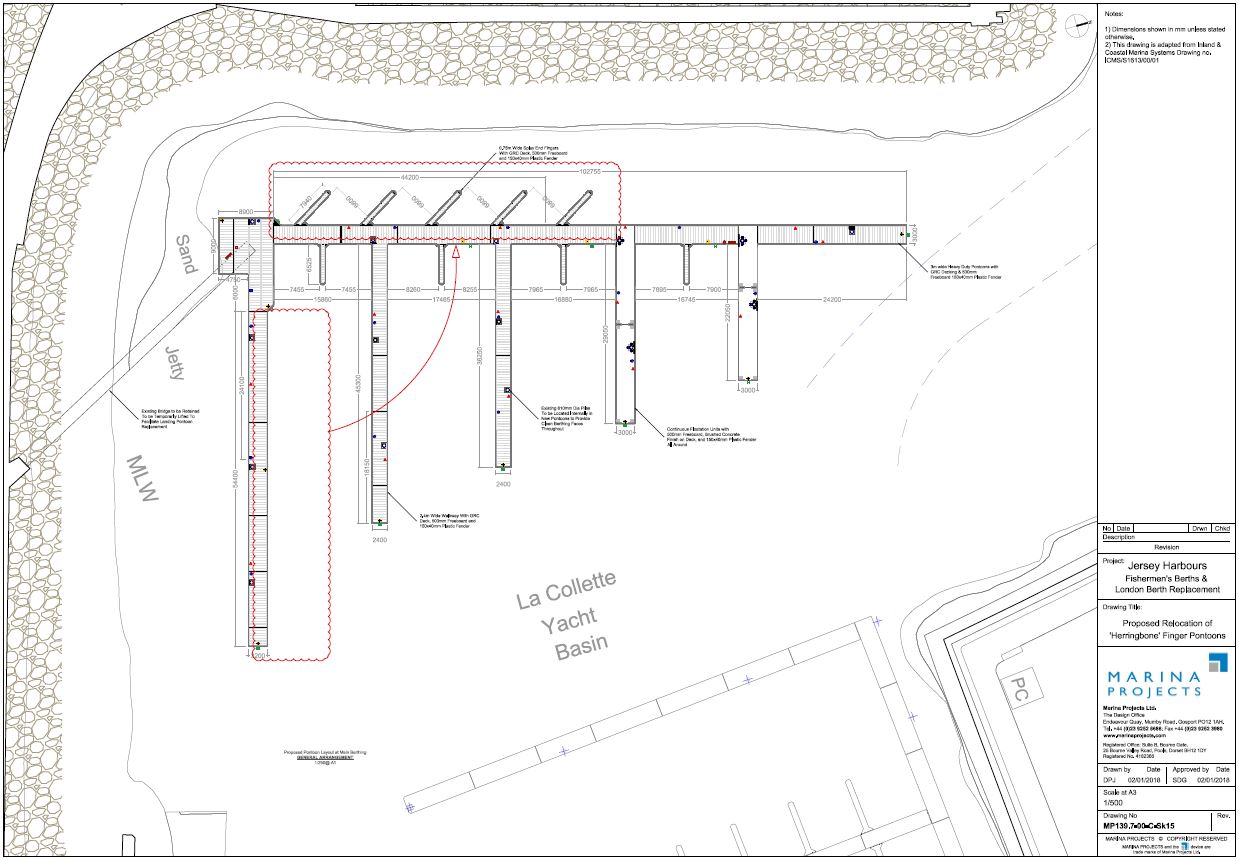 Project Management
Marina Projects Ltd, which has already successfully delivered a number of schemes in St Helier Harbour, is managing the project on behalf of Ports of Jersey Ltd. Following a competitive tender process, the supply and installation work will be carried out by Inland & Coastal Marina Systems (ICMS) supported by local sub-contractors, Geomarine Ltd and Gordon Electrical Services Ltd. The supply of new electrical and water equipment is being provided by Rolec Services.
During the works programme there will be some short-term disruption to the day-to day-fishing and harbour operations while pontoons are replaced. However, while the disruption is unavoidable Ports of Jersey will be putting in place alternative options for fishermen to berth their vessels and land their catch. Displacement of vessels from the commercial fishing berths will be done in phases, as outlined in the key dates below. This will be disseminated to fisherman through the JFA.
Key Dates
Works commence w/c 26 February 2018
Phase 1   | 26 February – 30 March 2018 | London Berth
Phase 2a | 26 March – 16 April 2018 | La Collette Pontoons A, B & C, and access ramp
Phase 2b | 17 April – 27 April 2018 | La Collette Pontoons  A, D, E F
Any changes or updates to the works programme will be posted on this page.  It is recommended that this page is checked on a weekly basis, and should be the first point of reference.